"You'll be musing over the rich flavours of this pie long after it's over – in the best possible way."
The Independent – Best pie to celebrate British Pie Week 2021

See what our customers think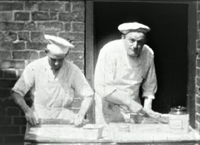 The pie, to quote one Victorian writer, is 'a great human discovery which has universal estimation among all civilized eaters'
Do you love the sound of succulent slow cooked Heritage breed beef, Herb fed free range chicken, fresh seasonal vegetables and herbs, all filled to the brim inside pastry so light it could float off your plate?
Then you might just have found the pies you've been dreaming of...
At Yorkshire Handmade Pies, we make pies for those who love pies made properly, paying respect to the traditions and history that make the pie such a unique British dish.
My Great Grandfather (pictured) first started to make pies in his village shop nearly a century ago, inspiring me to follow him to continue the methods of hand-crafted pie making.
It's become a lifelong passion of mine and it's an honour to be able to make pies that showcase the incredible ingredients farmed and produced here in Yorkshire.
James Sturdy - Founder, Yorkshire Handmade Pies
Shop now