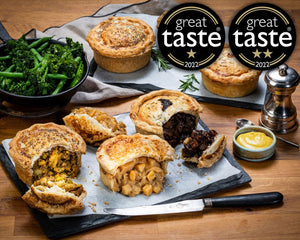 2 x Mature Cheddar, Smoked Applewood and White Onion, 2 x Mixed Mushroom and Nightmare Porter Ale, 2 x Yorkshire Samosa Pies (vegan)

We're incredibly passionate about creating vegetarian and vegan pies that burst with flavour. Try our selection box to sample a trio of the finest meat free pies you'll try!

If you'd like to see more information about the ingredients or nutritional information, simply click on the individual pies in the product section. Thanks!
Exceedingly good pies
Haven't tried the samosa pie yet, but if as good as the other two it will be excellent. The mushroom and ale pie has a good deep flavour & the cheese and onion also full of taste - hint of fennel coming through . My wife ate the cheese pie as I am vegan and it would be good if there was an all vegan selection.
Wonderful pies
Excellent for vegetarians and carnivores alike.
A+Perfect+Selection
I+haven't+personally+tried+the+pies,+but+my+vegetation+family+member+did+and+thought+it+was+delicious!+I+intend+to+order+some+meat+pies+soon.+Great+service.+Thank+you+
Lovely veggie pies
Excellent pies. Tasty and no soggy bottoms!
Delicious
Very nice pies. Pastry crisp and filling's very tasty.