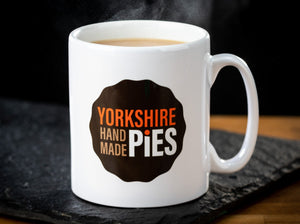 Treat yourself, or send as a gift, this fine Yorkshire Handmade Pies Ceramic Mug, exclusive to this website. These mugs are equally adept at holding tea, coffee or a whole range of hot or cold beverages. Fantastic when paired with a fabulous pie and have been known to work well with biscuits.
What a mug!!!
Top quality mug that you can enjoy your Yorkshire Tea In!!!!
5 stars on every pie.
These pies are fantastic pastry absolutely superb fillings ace best ingredients and flavour out of this world I'm a Scotsman and loved my butchers but. Now he's down list and he holds awards. YORKSHIRE PI3D
Teatime
Yorkshire Pie and Yorkshire tea the bestest tea for my tummy
Good Value
Steak and Ale pies were, as always absolutely delicious
Full of tender pieces of steak and really tasty